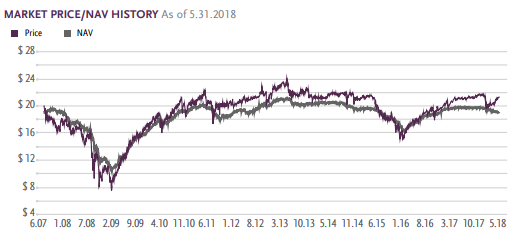 NEW YORK, March 01, 2019 (GLOBE NEWSWIRE) — Guggenheim Investments today announced that certain closed-end funds have declared their distributions. The table below summarizes the distribution schedule for each closed-end fund (collectively, the "Funds" and each, a "Fund").
1 A portion of this distribution is estimated to be a return of capital rather than income. Final determination of the character of distributions will be made at year-end. The Section 19(a) notice referenced below provides more information.
2 Guggenheim Enhanced Equity Income Fund ("GPM") adopted a managed distribution policy (the "Distribution Policy") effective with the June 30, 2017 distribution. Under the terms of the Distribution Policy, GPM will pay a quarterly distribution in a fixed amount until such amount is modified by the Board of Trustees. If sufficient net investment income is not available, the distribution will be supplemented by capital gains and, to the extent necessary, return of capital.
The following table sets forth the estimated amounts of GPM's current distribution and the cumulative distributions paid this fiscal year to date from the following sources: net investment income; net realized short-term capital gains; net realized long-term capital gains and return of capital. All amounts are expressed per common share.