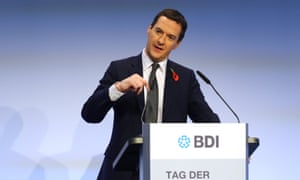 George Osborne has received some good news before this month's autumn statement on the economy, with data showing output from Britain's factories has risen and the trade gap with the rest of the world has narrowed.
Figures from the Office for National Statistics showed manufacturing output increased by 0.8% between August and September – the biggest monthly jump in more than a year. Meanwhile, higher exports and falling imports meant the UK's trade deficit more than halved in September – falling from £3bn to £1.4bn.
Data for the third quarter of 2015 – a more reliable guide to trends than one month's figures – provided a less upbeat picture of the economy. Manufacturing output was down 0.4% on the second quarter, leaving the sector in technical recession, while the deficit in goods and services widened from £5.1bn to £8.5bn.
Despite the September increase in factory output, manufacturing production remains more than 6% below the peak it reached in 2008, before the economy's descent into its most severe postwar recession.
Industrial production – comprising manufacturing, mining and quarrying, North Sea output and energy supply – increased by 0.2% in the third quarter, compared with the 0.3% the ONS had pencilled in when estimating the economy's 0.5% growth rate for the third quarter.
The ONS said a near 5% drop in mining and quarrying meant industrial production fell by 0.2% in September, and in the third quarter it was more than 9% down on its pre-recession high.
Over the three months to September, there was evidence of a strong pound and a weakening in global demand making life difficult for British companies to sell abroad. Exports declined by 6%, widening the deficit in goods by almost £6bn to just over £32bn.